Directions
The simplicity of the Negroni cocktail is disarming: 1/3 of gin, 1/3 of bitter and 1/3 of sweet vermouth. In a mix of few simple ingredients, you can find a magical beverage, where the bitter taste of Campari blends perfectly with the pungent aroma of the gin. The sweet vermouth is the classic cherry on the cake and adds a little bit of sweetness.
Not surprisingly, the Negroni is an Americano cocktail where soda is replaced by a good dose of gin and shares its bitter nature, ideal as an aperitif, but also perfect to accompany spicy dishes, fish tacos or fried chicken.
The Negroni is a stylish, neat cocktail, but at the same time is one of the simplest drink to prepare: you can just build it in the glass, adding some ice, an orange slice. That's all: it's the perfect aperitivo.
But why is still a top-notch cocktail sipped all over the world?
The answer is simple: the perfect balance that blends and interweaves together sweetens, bitterness and the mysterious flavor of gin.
Negroni's cocktail history
It is named after count Camillo Negroni, who, at coffee Casoni in Florence, used to drink as an aperitif an Americano "reinforced" with a good dose of gin. And so to differentiate the drink of the count, the bartender, Fosco Scarselli, replaced the lemon peel with a slice of orange.
Ingredients of the Negroni cocktail
When to drink it
Pre-dinner, all-day cocktail but be careful: Negroni is one of the best cocktails for a fancy aperitif, but its alcohol content is very high.
How to prepare the perfect Negroni
It's prepared directly in the glass. Put some ice in a tumbler, cool the glass and drain the water, pour all the ingredients and then stir gently.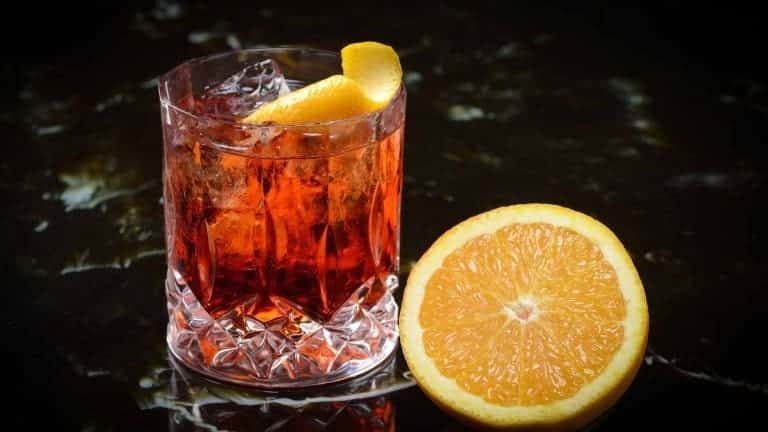 Garnish with an orange slice.
To play down the impact of the bitterness or if you prefer a lighter cocktail, or to make a summer tonic, you can add some soda water.
Great Gin Cocktail you should try
Gin Tonic, Paradise, Tom Collins, Heidi, Bramble, Gin Fizz, French 75, Tuxedo, Dry Martini.
Negroni food pairings
Recommended dishes: baked pasta, stuffed veal, seared tuna steak, fish balls, hamburger with Gorgonzola, walnuts and bacon, parmigiana ravioli, spaghetti with clams, chicken tikka masala, Chicken Cacciatore, Vitello Tonnato, truffle risotto, pasta alla carbonara, paella mixta.