Ingredients
120 grams of

pecorino cheese
Directions
Spaghetti alla carbonara is one of the most representative dishes of Italian cuisine. This emblematic recipe summarizes its philosophy: you can make a culinary masterpiece with a few simple, sumptuous ingredients.
What is Carbonara?
Carbonara is a dish of pasta seasoned with browned guanciale (a kind of bacon), pepper, Pecorino Romano cheese, and beaten eggs, which have to cook only with the heat released from the pasta.
Let's start by saying what ingredients are not included in the authentic Italian pasta alla carbonara recipe. First and foremost, any cream, as well as onions, is strictly forbidden.They are two of the biggest insults to culinary art.
Bacon, pancetta, and speck should not be used. Guanciale is the real deal, pure greasy magic, and if you take away its golden fat, pasta alla carbonara becomes flat and dull.
If you are on a diet or cannot find guanciale, do not make pasta alla carbonara; it is elementary: sometimes nothing is better than something.
Today we will offer you the original Roman recipe for pasta carbonara, where guanciale rules. All the flavor, we could say "the juice," comes from this little jewel.
Guanciale is the part of the pig that starts from the cheek and arrives at the end of the neck, which is reserved for three months of aging after being salted and peppered.
But back to our pasta alla carbonara: the recipe is straightforward, so do not worry. We will reveal all the secrets to making the perfect carbonara dish.
A couple of words about the history of carbonara
There is no need to disturb Tullio Servilio or the sect of the Carbonari for the birth of this dish, which probably was born during the Second World War when an unknown chef mixed the typical ingredients of the English breakfast (eggs and bacon) as a dressing for a simple dish of spaghetti.
Ingredients for making spaghetti carbonara
6 servings
600 grams of spaghetti
5 eggs
250 grams of guanciale
black pepper
2 handfuls of Romano cheese (70 grams)
salt
How to make the perfect pasta carbonara
Fill a pot with water and bring to a boil, then add salt.
Cut guanciale into thin strips.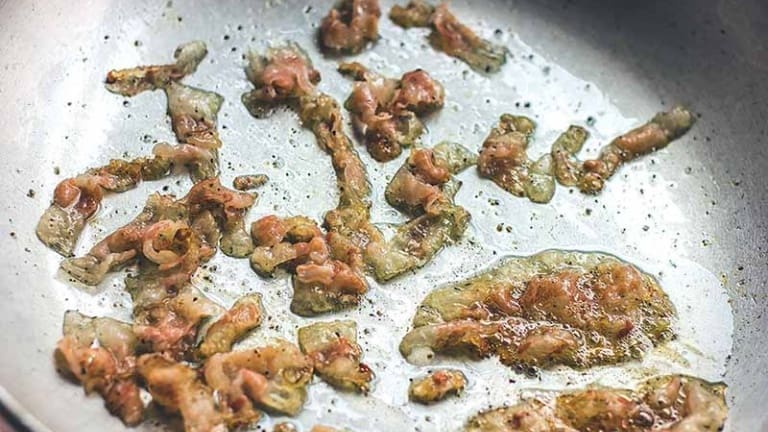 Brown it in a pan after having dusted with pepper. You do not need oil: guanciale is quintessential of fattiness.
Beat the eggs in a bowl, season with pepper and 3/4 of Pecorino cheese, then mix with a fork.
Cook the pasta al dente, drain, and season in the pan (well heated) with guanciale's fat.
Turn off the heat, submerge with the beaten eggs, and stir, adding the rest of the Pecorino cheese.
Pay attention to the consistency of the eggs. They must be creamy but not fluid: simple to say but difficult to achieve.If the pasta is too dry, don't add pecorino anymore.
Don't add water. There are no ways out: if the proportions are wrong or the pasta is too hot, the dish is gone. Once you have put the eggs on the spaghetti, you can't come back. Next time, you'll do better.
Now all you have to do is pile some spaghetti on your plate, season with freshly ground pepper, and enjoy one of the dishes that have made Italian cuisine history.
What wine matches well with spaghetti carbonara?
Carbonara has abundant flavors and fat, so the wine must be floral and sharp to cleanse the palate and smooth out the fat. Cobelli winery's Gewurztraminer was born to dance with the Carbonara.
If you want to pair a cocktail, take a chance on Vesper.