Trebbiano d'Abruzzo 2015 Emidio Pepe: The Ultimate Natural Wine?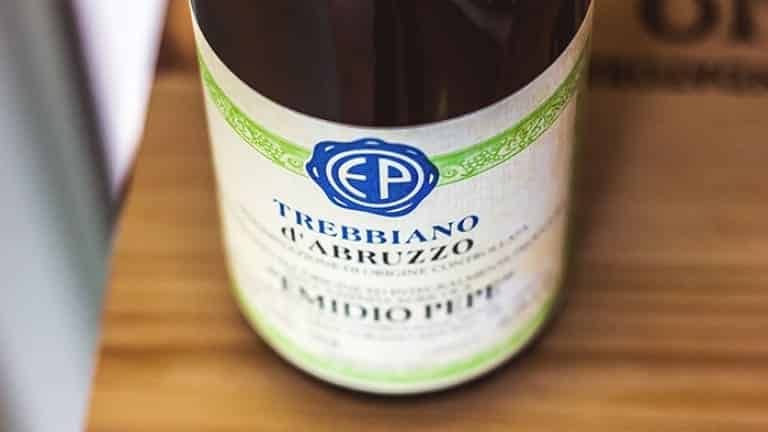 Emidio Pepe's wines are a certainty and find a place in the firmament of Italian wine, natural wine or not. And this Trebbiano di Pepe vintage 2015, although still young and very acid, far from its ideal harmony, already shows signs of great depth, refinement, and ambition.
As always, the wines of the Pepe winery are characterized by intense acidity and a minerality that comes from the nearby sea and the rocky soils of the Appennines.
And if there are wines in Italy that we could define as natural without fear of denial, they are those of Emidio Pepe.
The grapes are harvested and then pressed with the feet, nothing is filtered, but the must is left to ferment for a few months in vitrified concrete, then bottled. The must is a juice of fresh grapes full of flavors and aromas in its maximum expression.
The result is a wine with a thousand faces, light years away from the usual dull Trebbiano: this one from Pepe is a bomb of aromas, flavor, and freshness. He is still a baby. The 2015 vintage is just born, it lacks balance, but there are no smudges, disgusting Brettanomyces, or uncontrolled oxidations.
Not everyone can afford to make such a natural wine. Not everyone has the luxury of these climatic conditions, but not even the courage to be true winemakers.
Together with the Trebbiano di Valentini, it is the best Trebbiano in Italy, but it is not that we have discovered America. It has been for years that the two wineries boast this primacy, but it is also for years that the two wineries have been producing with sensitivity, attention, and without make-up wine with greasepaint or cellar techniques.
The bouquet
Elegant nose, sharp, with hints of citrus fruits, rocks, aromatic herbs, flowers, bergamot, thyme, and rosemary. The variety is vast, but the aromatic profile is clean, dry, and smells of the sea.
The taste
In the mouth, it is salty with a mineral structure that leaves you amazed, cuts and caresses with elegance and fullness. Focused on a thick maturation but still far from perfect balance, this is a wine that needs to age in the bottle to develop its full aromatic potential. At the moment, it is structured and very fresh, with a crazy citrus charge, with a lot of pulp, but give it at least 3-4 years, and it will start to round the edges. Potential for 10, 15, and 20 quiet years, the pulp is not lacking and not even a hint of very delicate tannin.
Overall it is a beautiful, fine wine, sculpted in the sea's salt and the granite of Gran Sasso, one of the best Italian white wines.
Price of Trebbiano 2015 Emidio Pepe
27-30 euros, an excellent price for a bottle of great natural wine.
Emidio Pepe Trebbiano 2015 Food Pairings
Drinking it now would be a shame. It's good but still incomplete. Nevertheless, if you want to combine it with Margherita pizza, veal with tuna sauce, chicken curry, carbonara, pad thai, and paella, it will not disappoint you.