Directions
Lately, we have been amusing ourselves with the Americano cocktail and its variants, with beer, foam, gazzosa, flavored foam, and many others. But everything had a purpose. We didn't just want to make the liver work but to find a new look for this great classic.
And since we wanted to use only one Italian product to maintain the origins of the true American, we focused on an excellent liqueur: Ratafia. Legacy of an alcoholic past, where real men sealed deals with a shot of this ruby liqueur and then set off on their sleds searching for new adventures.
And so we present you a new Americano, but since in life the first rule is to know not to know, we were humble, and we called it Fake Americano.
The alcohol content is acceptable for an aperitif, and the flavor has a good balance between sweetness and the bitter and herbaceous tones of rhubarb liqueur. But let's see Fake Americano ingredients: an excellent artisan rhubarb liqueur, a great Abruzzese ratafia, a cone for some smoke, soda, mescal, and a few drops of chocolate bitter. If you want to make it more aggressive, add 2 cl extra mescal.
Ingredients and doses to make the Fake Americano cocktail
3 cl of rhubarb liqueur
1 cl of Abruzzo Ratafia
2 cl of mescal
2 drops of chocolate bitter
soda
1 small pine cone
How to make the Fake Americano cocktail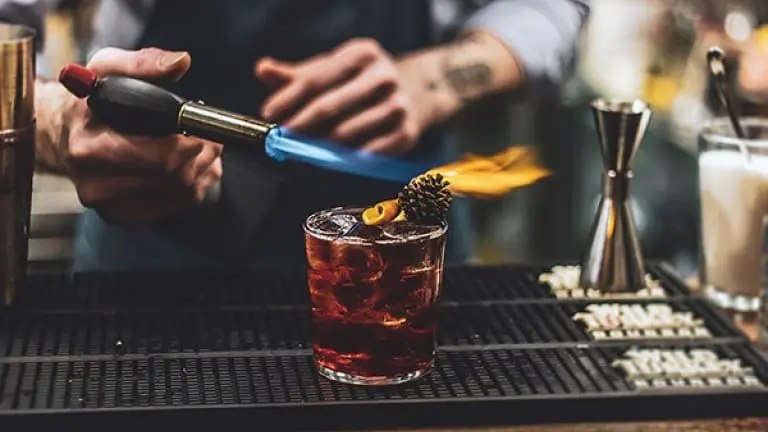 Burn a pine cone with a blowpipe and smoke an old-fashioned glass by putting the glass over the smoking pine. Wait 1 minute, put some ice in the glass, pour the rhubarb liqueur, ratafia, mescal, two drops of chocolate bitter, and complete with a splash of soda. Stir gently and garnish with an orange peel and, if you wish, the burnt pine cone.
Other great cocktails to try as an aperitif
Negroni, Mojito, Moscow Mule, Gin & Tonic, Dark and Stormy, Daiquiri, Margarita, Spritz, Hugo, Old Fashioned, Manhattan.