Directions
The Bagna Cauda is a historic recipe from Piedmont, a savory sauce, with an intense and super salty flavor, seemingly simple, but that must be prepared following assiduously the recipe for it to be perfect.
There are many variations of Bagna Cauda, whose origin is still shrouded in mystery. Since traditionally Bagna Cauda is made in autumn, during the harvest, it is thought that its birth has a link with the grape processing or something similar.
Today we want to offer you the real original recipe of the Schiavenza restaurant, one of the best trattorias in Serralunga d'Alba, where the bagna cauda, ​​which means simply hot sauce, is an institution.
The recipe is easy to prepare, but it's always a pleasure to make it, because the bagna cauda was born as a dish of conviviality, in fact, once upon a time a single container was put in the center of the table, where each guest could dip pieces of vegetables.
The only advice that we can give you is this: let's dip in only fresh ingredients, seasonal vegetables!
Ingredients of the Italian Bagna Cauda

1 clove of garlic for each person
10 salted anchovies
500 ml of olive oil
15 grams of butter
500 ml of milk
vegetables for dipping: cooked and raw peppers, thistle, artichoke slices, cabbage leaves, turnips, beets and baked onions, boiled potatoes, endives
How to make the Bagna Cauda like an Italian chef
Reduce the garlic into cloves and peel it. Put it in a saucepan, cover it with milk and boil slowly for 20 minutes.
Throw away the milk and put the garlic on a cutting board and finely chop it. We open a parenthesis here: someone adds the cooking milk or even some fresh cream to the sauce, to attenuate the strong flavor of garlic. The original recipe doesn't include the cooking in the milk process, but if you don't like the tangy, strong flavor of the garlic, now you know how to sweeten the sauce!
Place in a saucepan the chopped garlic, a dash of extra virgin olive oil or walnut oil (if you can find it), add the washed anchovies and cook slowly, it doesn't have to boil, stirring constantly until it becomes a well-mixed sauce.
After 10 minutes, remove from heat and add a spoon of butter. Serve on the table in the appropriate warmers and let's dip the vegetables in!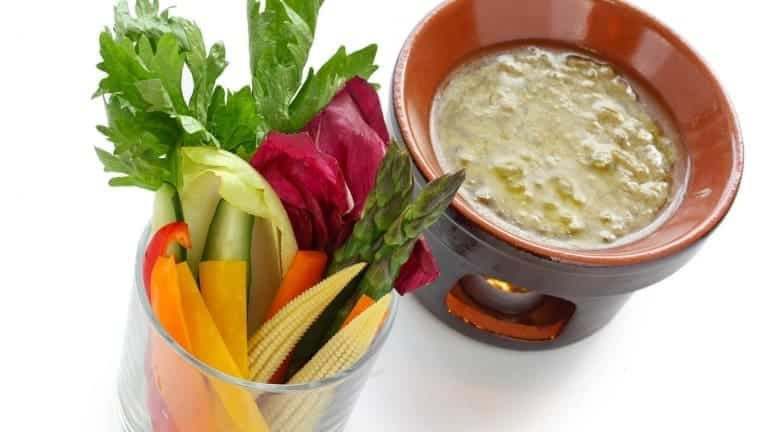 Remember that this simple sauce is a delicious dressing for any vegetables, in Piedmont Bagna Cauda and peppers, are an immortal classic, but nothing prevents you from experimenting with meat, cheese, and tofu.
What wine goes well with Bagna Cauda?
In Alba, the classic wine is Dolcetto and the reason is obvious: the intensity of bagna cauda, so tasty and penetrating, and the green flavors of the vegetables need a fresh, but not too tannic wine, or the tannins will clash with the saltiness of the dish. Dolcetto is a simple, lively wine, not too alcoholic, perfect for spicy and salty dishes. Other suggested wines are Barbera or Nebbiolo, Barbaresco and Barolo, but we can also try a pink Spumante from Oltrepò Pavese if we want bubbles.