Directions
Once again one of the best Italian recipes is also one of the easiest of them all. Yeah, today we are going to make a classic pasta with pesto alla Genovese.
The original recipe from Liguria requires potatoes and green beans too. Oh, and don't forget about trofie.
What the hell are trofie?
A simple kind of pasta made with flour and water, but you can use linguine, orecchiette or whatever you like.
We are telling you this, just for the record… if you see in a menù trofie with pesto Genovese with potatoes and green beans it means you are going to eat a great dish, not a fake-wannabe cool dish.
Sounds difficult?
Not at all! The recipe itself is a cakewalk, it's the goodness of ingredients to make the difference.
In this case, it serves another essential ingredient for great basil pesto, the most important: time.
If you want to make the perfect pine nuts and basil pesto, you have to grind everything in a mortar. First basil, pine nuts and garlic and then cheese and at the end you add oil, not a second before.
Forget about the blender…
It's a labor for a monk locked up in a hermitage in the lumpy mountains of Kathmandu?
Yes, but there is no way out: the blender would burn, oxidizing it, the poor basil and when you have a beautiful, just picked from the plant basil is a shame to ruin it.
Be patient and use these 25-30 minutes as a relaxing zen-exercise, an occasion to meditate and make something good. But, please do not mistreat pesto, it doesn't deserve it.
Ingredients for making the real pasta with pesto alla Genovese
4 servings
150 grams of basil
90 grams of Parmigiano Reggiano
60 grams of Pecorino cheese
150 grams of pine nuts
140 grams of extra virgin olive oil
2 cloves of garlic
a pinch of salt
400 grams of pasta (trofie, orecchiette, linguine)
2 potatoes cut into chunks, 300 grams
300 grams of green beans
How to make the perfect pasta with basil pesto Genovese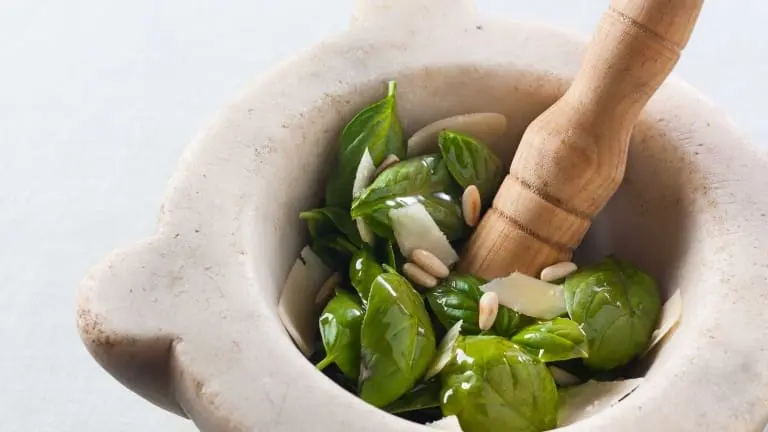 Put garlic, basil, pine nuts and a pinch of coarse salt in a mortar and start working: pound gently with calm movement. Meanwhile, meditate and focus on the movement.
Wait and keep pounding: we've said that we do not want to hurry!
When basil is well melted, let's say after 10 minutes, add both kinds of cheese and continue to work, but using a spoon.
Now you should have a nice, dense, compact pesto sauce.
Good, now start adding oil slowly and keep stirring with the spoon to incorporate it calmly.
That's all, now we just need to put some water in a pot, bring it to a boil and cook beans and 2 potatoes.
Wait 10 minutes to let them cook, then put inside trofie or orecchiette or linguine.
Cook pasta, drain it al dente and season with abundant basil pesto, some oil and a sprinkle of grated Parmigiano.
If green beans and potatoes will not tease you, nobody forbids to flavor a classic dish spaghetti with pesto, with few pine nuts and a bunch of basil.
What wine matches well with basil pesto pasta with green beans and potatoes?
Normally a fresh, fruity Pigato with fine notes of herbs does his duty, but if you want a more intriguing pairing try pesto pasta a great Trentodoc spumante: the Brut from Revì winery is pure magic.
If you want to pair a cocktail, Mojito is the real deal.